Nug

Parody App Design

I took the IDEO design process for a concept of "chicken nugget delivery" for an app that can help you find the closest location that sells chicken nuggets. I am a vegetarian.


Review of Research: Toward a Single Nug: A Comparative Assessment and Analysis of Chicken Nugget Culture and Community



RESEARCH PROBLEM


I am studying the similarities and differences in consumer preferences of chicken nuggets and the needs of the general population to locate the perfect nugget. I want to find out whether or not different definitions of a "perfect" chicken nugget affect how people search for fast food in order to help readers discover a new vehicle to search for their desired qualitative and quantitative amount of chicken nuggets.

MAIN CLAIM


The proliferation of so many restaurant finding apps, ­Yelp recommendations, and other criteria that have overwhelmed the chicken nugget industry's marketing strategies, has weakened the meaning of "the perfect chicken nugget." In order to create a more transparent balance between producer and consumer, as well as instill a more enforceable, consistent model of discovery, there should exist a dedicated application to locate any type of chicken nugget that a consumer desires within a certain radius.



IDEO METHOD I: RANDOM INTERVIEWEES AROUND CABELL LIBRARY
Quantity of persons interviewed: 28

Interview lengths ranged from one minute to ten minutes.
1. Do you consume/like chicken nuggets?





2. How many times have you consumed chicken nuggets within the past month?




3. What general annoyances or issues have you experienced while trying to purchase chicken nuggets?




4. Have chicken nuggets impacted your life academically/professionally?




5. Additional questions consisted of various spin-offs to user input. Many participants expressed the need to find specific types of nuggets or restaurants of certain nugget quality. For example, several categories that appeared were: nugget sauce, restaurant proximity in radius, crispiness of nugget, spiciness of nugget, availability of chicken tenders vs chicken strips, user ratings of chicken nuggets, mobile ordering availability of nuggets.


According to the general response of participants, there is a broad need of a method of organizing and categorizing types of nuggets in order to make a smarter or more effective decision about where to buy such nuggets. Additionally, a location-centered design would allow more precise judgments to be made and allow for further customization of nugget goodness.


A possible solution would be an app that can show the location of any restaurant that sells chicken nuggets in a customizable radius. In order to provide more consumer value, the app could offer other options that could be checked off in order to narrow down the desirable locations, such as sauce types, ingredient lists, possible allergies, availability, spiciness levels, and user ratings.


Design Process




Brainstorming user interactions and note taking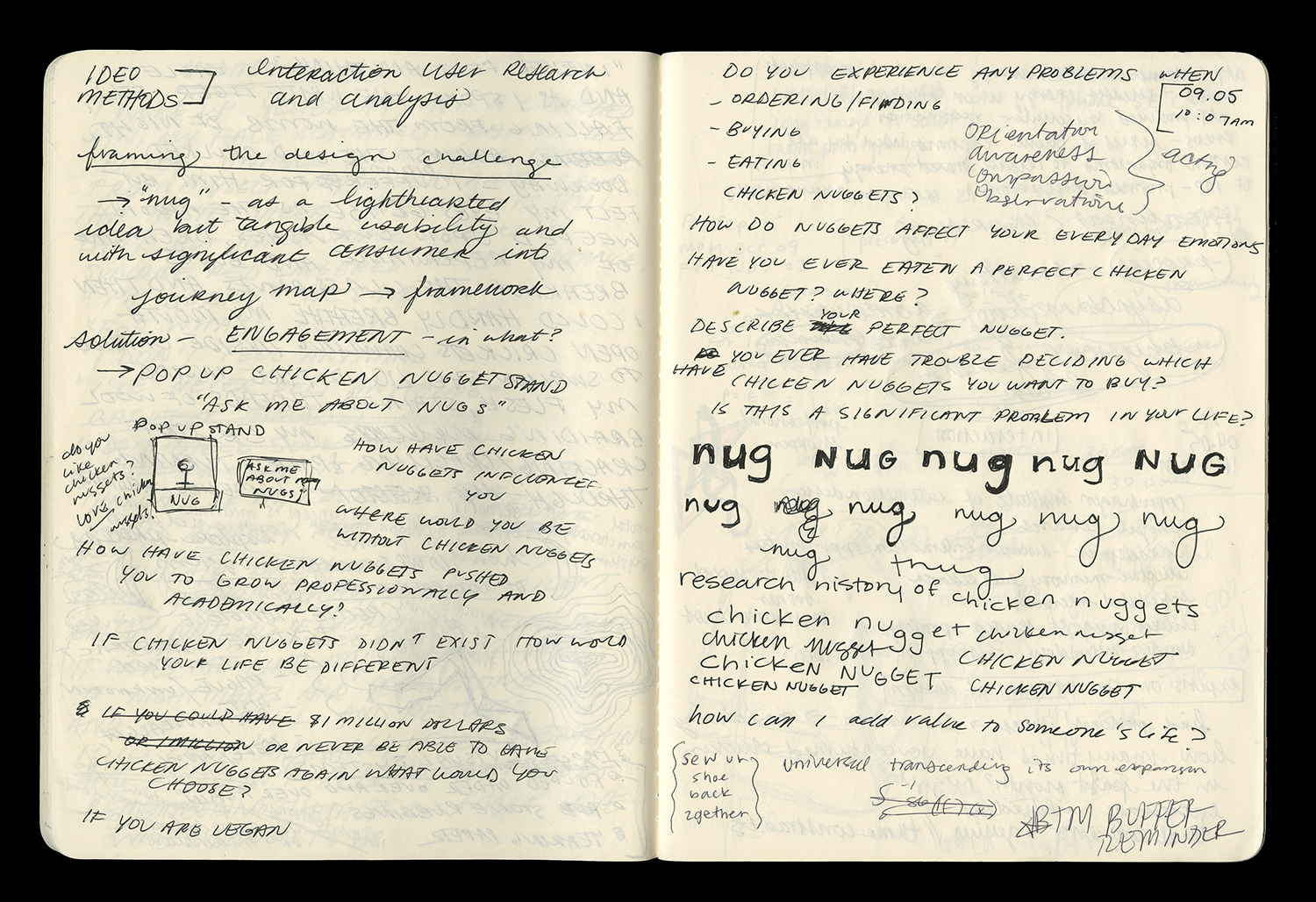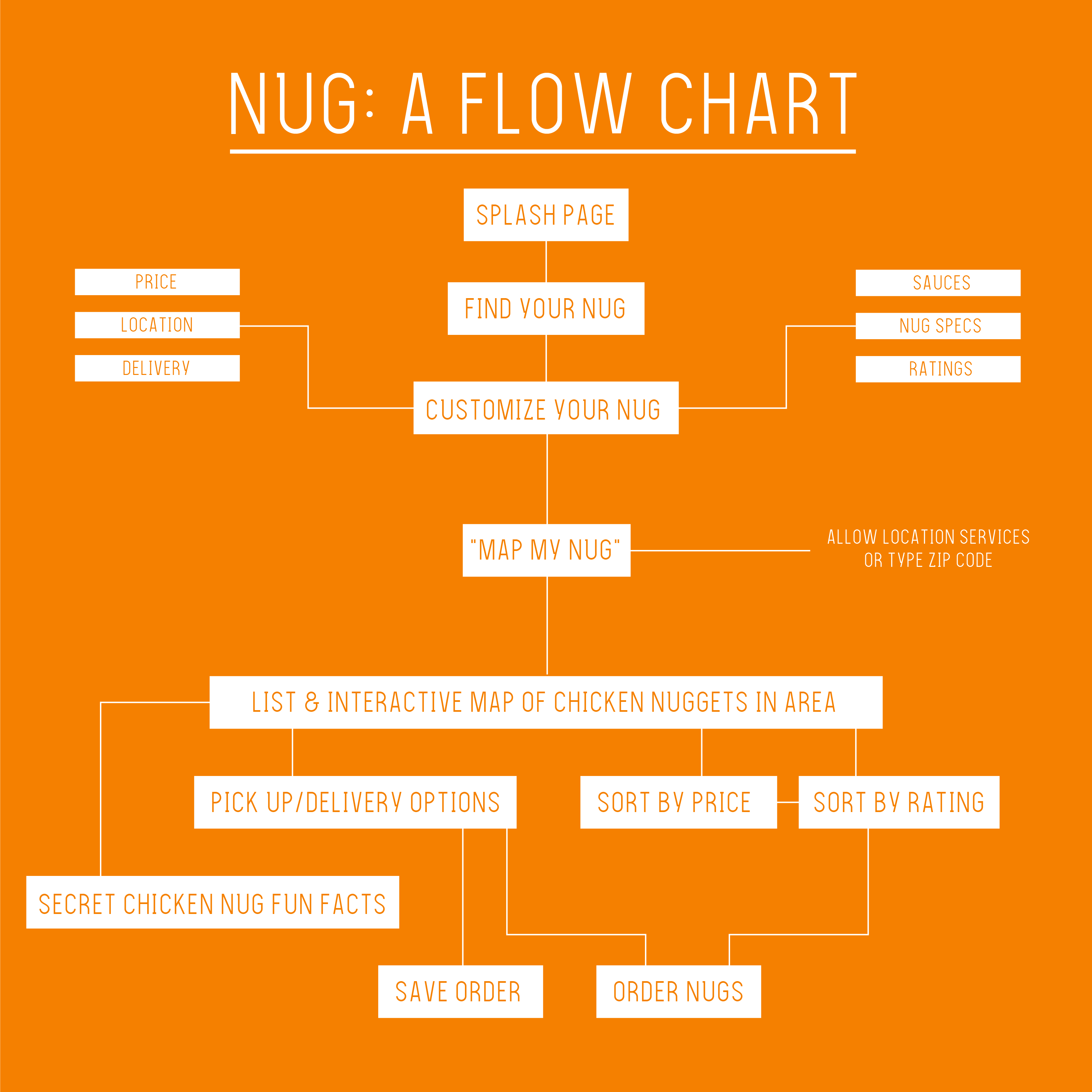 After wireframing, prototyping, and testing iterations, I present, the final Nug App:


Customize your nugget to your heart's desire.
GPS feature showing all restaurants and chicken nuggtes in area.